"Hello, I'm a Mac and... Oh stop it Samsung!"
12 years ago, we were introduced to a series of witty "Hello, I'm a Mac. And.. I'm a PC" ads. From 2006 to 2009, Apple Inc.'s advertising agency, TBWA\Media Arts Lab, ran ads featuring Justin Long as a Mac, trashing John Hodgman as a PC. In one of the ads titled "Genius"  - Mac introduces a Mac Genius from the Apple Retail Store's Genius Bar. PC tests the Genius, starting with math questions, blah blah blah and ended asking her, on a scale of one to ten, how much does he loathe Mac, to which she answers "Eleven." Surprised, PC says "She's good. Very good."
Remember this Genius? ↑
For a good 4 years, Apple had a good run trashing PC with these witty ads. Waaaahahhaa.. hai~~~~ It was those good advertising days. 
Fast forward to 2018, looks like the table is turned on Apple Inc, especially with the iPhone. Samsung US's "Ingenius" series takes shots at the iPhone's LTE speeds, dongle, fast charging and etc.
My face when friends asked me if I was going to buy the iPhone X.
Without further ado, enjoy Karma doing her work. Presenting...... "Ingenius"
 
Ingenius: Dongle
Exactly the same look when Apple removed the earphone jack and tried to justify it by trying to be brave. I'm like 'WTF dude?"
Ingenius: Fast Charger
 
The last straw came when Apple pushed out the 64gb version iPhone, totally skipped 128gb and went straight to 256gb version. I'm like: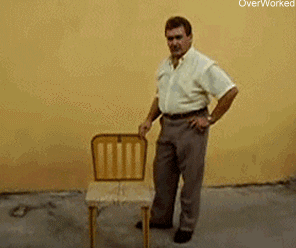 I really enjoyed the ads, especially the sound track going ~~~G~G~G~Ggggenius~~~. To be honest, this, series of ads is especially sweet if you had memories of the "Hello, I'm a Mac" ads. It's like Samsung, the distance cousin of Windows, extracting a 12 year planned revenge on Apple.
Enjoy the rest of the series here. To be honest, Apple had it coming at them for pushing out products which really fall short of standards and coming up with excuses to justify the price tags.  (Ironically, I'm composing this piece on a MBP.)
P.S. Samsung, please do note remove the earphone jack for Note 9, 10, 11, 12. Remember, the. internet do not forget.
~~~G~G~G~Ggggenius~~~
Please reload